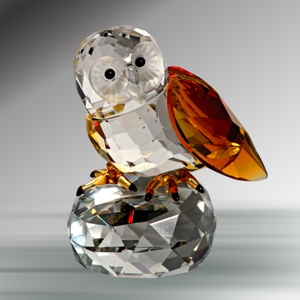 Crystal Florida 5734 Owl on a Stand with Amber Wings and Claws
Touching yet easy... Reflecting all the colors of the Earth. Envied by the Sky, adored by the Sun...Crystal is a combination of drops of light from Heaven where beauty finds its meaning in purity. It offers a stunning harmony of colors and light, creates amazement by its brilliant reflections and displays the colors of happiness to crystal lovers. The moulds, machinery and appropriate high technology are used to create the harmony of love, crystal and craftspersonship. All pieces are carefully hand-finished and quality controlled by our experienced craftsmen. Since 1951, Crystal Florida offers the beauty of life reflected by the glimmering light of crystal and caught by the human eye which appreciates and reflects on its beauty. After hard work and experience of more than fifty years, we are now exporting to 23 countries; mainly to the United Kingdom, France, Sweden, Germany, Austria, Japan, Malaysia and Indonesia .
Item is Gift boxed and comes with a Certificate of Authenticity from Crystal Florida.
Owl on a Stand with Amber Wings and Claw.
It stands at excellent angle.
Although the body is Clear crystal amber wings give the impression that its amber too unless you look through sideways.